Alright so Unity 5 is out and we've officially made the switch over from Unity 4 to Unity 5 for our current projects. It's nice that Unity 5's personal edition has all the shader functions and what not as the pro version but unfortunately it doesn't have Perforce integration with it. However, that doesn't bother me. If you're running Perforce or some other source control system it's not hard to get things to work with Unity 5.
To get Unity 5 (or 4) to work with an external source control system like SVN or Perforce, just change your project settings as follows:
Inside Unity, edit your your editor settings under
Edit->Project Settings->Editor
Then change the Version Control Settings so that
Version Control Mode: Visible Meta Files
Asset Serialization Mode: Force Text
Here's a screen shot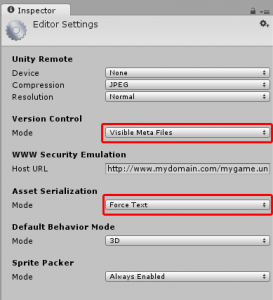 That's the Unity setup part. Once you're ready to sent the files to your source control software (in my case, it's Perforce). Make sure that you ONLY SUBMIT THE ASSETS AND PROJECTSETTINGS FOLDERS!!
A very common mistake amongst my new hires is that they submit the WHOLE Unity project folder and they wonder why there are 10k+ files being submitted. The Library folder simply isn't needed. It'll get rebuilt when the project is opened.