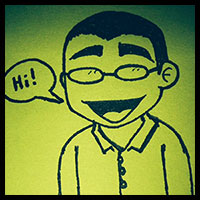 Hi there. My name is Budd Royce Lam, I'm the founder/Managing Director of gaming company Dev Null Studios and kill a lot of time at VFX/Film production company Trixter Canada. I'm a former Information Security professional turned full time video game designer/developer and business/marketing guy. (I'm also a sys admin, tailor and gym rat but that's something else)
'Incredibly smart, skillfull and dedicated'
–Clive Smith, founder Nelvana Animation
A bit about me
As a cross-industry professional that made the leap into the wonderful world of video games, I bring a plethora of skills and experience from my background in information security, system/network administration, business management, marketing, sound engineering and music production.
In a previous iteration of my life I was a mentee under one of the original Dragons from the TV show Dragons Den (Shark Tank in the US) running a guitar repair shop that became the distributor of hard to find/boutique guitars and guitar parts, handling product lines such as Caparison Guitars(Japan), Lundgren Pickups(Sweden), Bare Knuckle Pickups(UK), AMT Electronics(Russia) and Hipshot products(USA).
Since the start I've worked with many well known figures in the industry and also managed to grow my company organically without any additional investment from the outside, leveraging as many gov't programs as I could from grants to tax credits and duty deferral programs for my import/export division of my company.
Just in case I didn't have enough to do, while all that was happening I was also founded CaparisonForum.Com and DiMarzioForum.Com. Two officially recognized product forums for the respective brands and sold CaparisonForum.Com to the Caparison Guitars Company in late 2012.
During the first five or so years while I was running my own company, I also worked for Play Records as an Assistant Producer under Melleny Melody to help streamline the production pipeline. During my time there, we discovered and helped launch the career of electronic artist deadmau5.
These days my focus is on interactive digital entertainment at Dev Null Studios where I get to play the role of producer, director, developer, mentor, general manager and caretaker.
In my never ending journey to expand my knowledge, I recently completed programs and courses offered by MIT as well as the Harvard Business School.
Why Video Games?
Why? Because I'm a dream chaser and I believe that the stuff I was into when I was 16 was a true representation of what I truly loved wanted to do. Like many kids growing up, I really had a passion for video games, anime and other silly things that I was forced to give up when I became an adult.
When the barriers of entry to become an independent game developer was lower than ever, I realized this was a golden opportunity to finally do what I always wanted to do and here I am.
More importantly, I just hope to be the case study that inspires others to do stuff they've always wanted to do, because it's never too late to start.
How can I help you?
If you read through all that, you didn't just come here to read a bit of my back story to kill time, you're probably out on the lookout for someone to help you out. With a diverse skill set and experience from multiple industries, I'm a walking Swiss army knife when it comes down to video game production. Whether it's production, marketing or business, I handle it all.
I'm a bit extroverted and don't mind making a fool of myself. Over the last two years I've led Team Whisky Tango Foxtrot and have been interviewed for various gaming related articles and showcases from Electric Playground Daily, the Globe and Mail, CTV news, ONSet Magazine as well as the local publications for Ryerson University and the University of Toronto. If you're looking for someone that can push your company into the foreground, you came to the right place.
For more information on my skills and qualifications you can check out my LinkedIn page.
Or better yet, just contact me and we can discuss how I can help your organization.
Best Regards,
Budd